Otherdeed For Otherside Everything You Need To Know
There is no denying that NFTs are all of the hype at the moment. Only last year, NFTs became a $40 billion market. And, this is only the beginning! We're sure you have seen news stories about NFT artworks being in huge demand!
We're seeing crazy interest in different NFTs, from digital art to in-game avatars, and Otherdeed NFTs are the latest to experience insane levels of demand. In this post, we will reveal everything you need to know. 
What are NFTs?
Before we take a look at Otherdeed NFTs in more depth, we must first explain what an NFT is. Non-fungible tokens, as the full name goes, provide a way of adding scarcity to a digital item, which then drives value. This means NFTs can be purchased, invested in, traded, collected, and so forth in the NFT marketplace.
Unlike Bitcoin and other cryptocurrencies, you cannot exchange one non-fungible token for another. It is unique and cannot be replaced on a like-for-like basis, which is what makes NFTs so highly valued.
Insane demand for Otherdeed NFTs
On the 1st of May, Yuga Labs experienced unprecedented levels of demand for its Otherdeed NFTs, which are similar to "title deeds" yet they are for digital land plots in the Otherside metaverse.
Yuga Labs has quite the reputation when it comes to NFTs. they have also acquired the Meebits and CryptoPunks NFT collections, so you may be familiar with them.
Before we delve deeper into the sale itself, we'll explain what Otherdeed NFTs are to give you a better understanding.
It starts with Bored Ape Yacht Club…
To understand Otherdeed NFTs, you first need to understand Bored Ape Yacht Club, which is often abbreviated to BAYC. This is an NFT collection and ecosystem that Yuga Labs has developed. 
There are around 10,000 Bored Ape NFTs that make up the BAYC collection. These NFTs are unique digital collectables that live on the Ethereum blockchain. 
Your Bored Ape will double up as your membership card for the Yacht Club, providing you with access to benefits that are just for members. The first of these benefits is what is known as 'THE BATHROOM' - a graffiti board that members can collaborate on. 
You can then unlock future perks and areas via roadmap activation. 
Every Bored Ape is unique and has been generated from more than 170 possible traits, including clothing, headwear, expression, and more. While all apes are amazing, some are rarer than others. 
The apes are stored on the Ethereum blockchain technology, as ERC-721 tokens and hosted on IPFS. It will cost you approximately 0.08 ETH to buy an ape.
Using $APE (ApeCoin)
ApeCoin, which is otherwise referred to as $APE, is an ERC-20 governance and utility token that is used within the APE ecosystem for the purpose of empowering a decentralised community building at the forefront of web3.
Some of the different things that $APE is used for are as follows:
Incentivisation - ApeCoin is a tool in the digital economy for third-party developers that enables them to take part in the ecosystem through the incorporation of APE into projects, including games and services. 
Access - You will be able to get access to different parts of the ecosystem by using $APE. These are areas that would not be available otherwise, such as services, events, merch, and exclusive games. 
Means of payment - $APE is the utility token for the ecosystem, meaning all participants can use an open, shared currency, without the need for centralised intermediaries. 
Governance - Finally, ApeCoin is also the governance token for the ecosystem, enabling holders of $APE to take part in ApeCoin DAO.
It is important to know that there is a fixed, permanent supply of ApeCoin, which is set at one billion tokens.
This total is never going to get greater, as there is no minting capability exposed through the interface of the contract. Moreover, any token burning capability is not exposed by the interface, so the total supply will never get lower.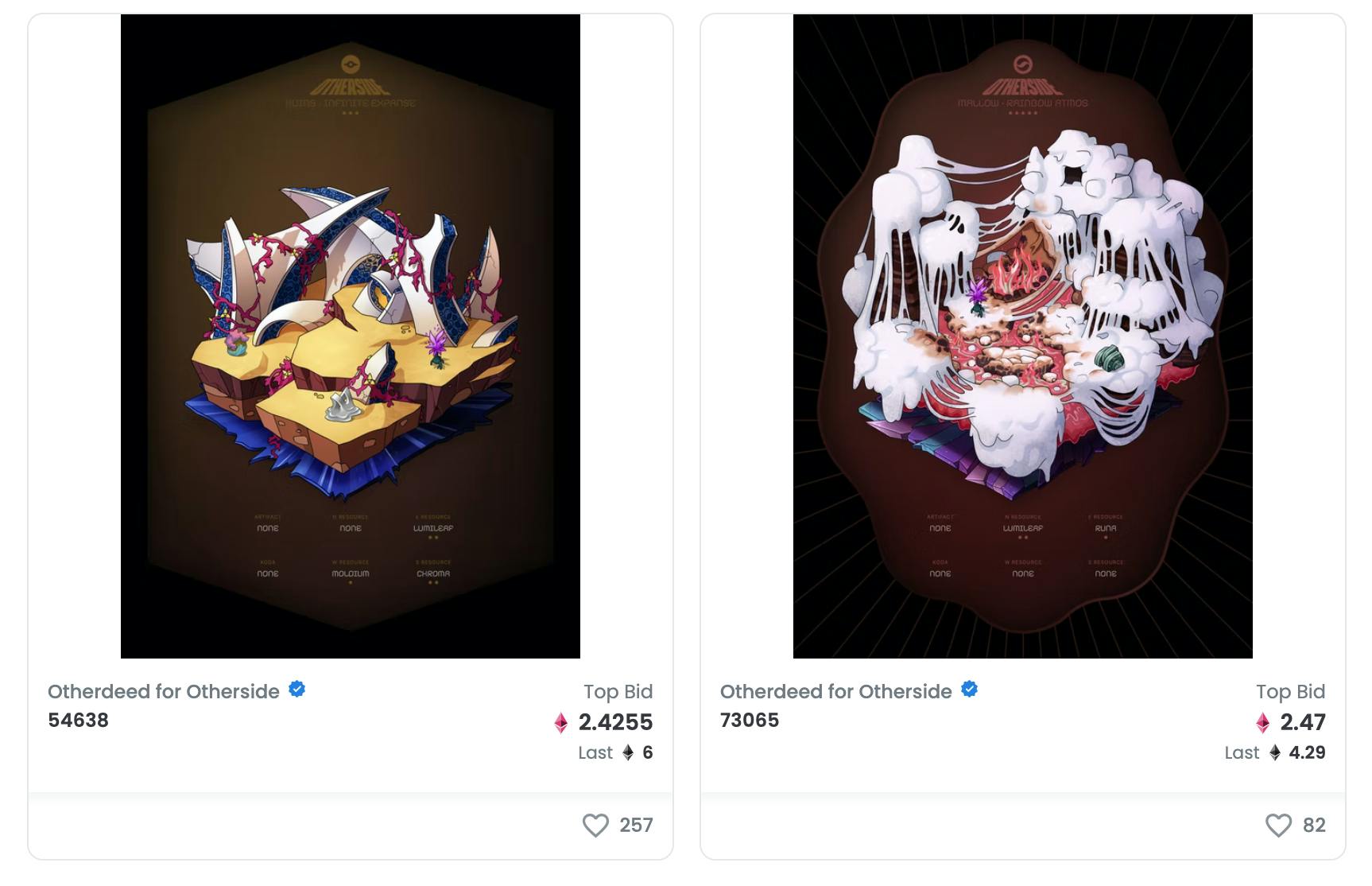 The launch of Otherside on BAYC
Now that we have provided you with some all-important background information regarding BAYC, let's look at Otherside. Back in the spring of 2019, Yuga Labs posted a tweet revealing that Otherside, a game powered by $APE, was going to launch this April and it would be based on BAYC.
More information started to come out about this exciting and fascinating game. It was set to be an MMORPG game whereby players can employ their NFTs as characters or native avatars. At the time, a report was published by Cointelegraph, where they stated that an investor pitch deck revealed that Yuga Labs anticipated earnings of $178 million by selling virtual lands, with APE being a de-factor to token to process these purchases. 
The date was then set; the Otherside land sale was to get underway on the 30th of April, with Yuga Labs letting everyone know exactly one week in advance.
A few days later we were given some details:
We were informed that you would need both ETH and ApeCoin in your wallet. While the mint would be exclusively in ApeCoin, some ETH would be required for gas. 
The mint was to have a Dutch style of auction, meaning the price of ApeCoin would actually reduce over time. 
For both MAYC holders and BAYC holders, they would be able to claim a non-fungible token for 21 days after the auction. In order to claim, KYC approval is not needed, but people did need to be KYC-approved for minting NFTs.
They also made it clear that any ApeCoin that would be earned from the auction would then be locked for up to one year, meaning it could not be used to vote in ApeCoin DAO.
So, what's the Otherdeed side of things?
An "Otherdeed" is the key to your Otherside. If you hold an Otherdeed, you will have the ability to take part in prototype builds, demos, and tests so that you have a direct impact on the final design and experience the game provides. 
Moreover, each Otherdeed is also a dynamic NFT, created as a collection of elements, from Kodas to resources, which will evolve as you are moving component pieces around. 
More in-depth details about the 'Otherside' land sale
The Otherside contained 200,000 unique plots of land, which could be claimed using Otherdeeds once the Otherside world launched. 
It was the first 100,000 Otherdeeds that we made available on the 30th of April. We currently do not know about the next 100,000 Otherdeeds and when they will be revealed. 
The Otherdeed NFT mint was set to happen at 9 pm ET on the 30th of April, with a mint price established of 305 ApeCoin per Otherdeed. 
There were 55,000 Otherdeeds that were up for sale to be bought using KYCed wallets. 
In order to mint, there were four requirements that you needed to meet:
You needed ApeCoin for minting 
You needed ETH for gas
You needed to already be KYC approved by Blockpass
You also needed wallet pre-approval 
Anyone who held MAYC or BAYC NFTs was able to claim one Otherdeed for each BAYC or MAYC NFT they had. Once the first 100,000 Otherdeed NFTs were sold, MAYC and BAYC holders had 21 days to claim their Otherdeed NFTs.
What is the land NFT like on Otherdeed?
When you purchase land, you will get a digital NFT artwork icon, which is a representation of the sediment your land boasts. Every sediment comes with a unique frame (environment), which goes with it. 
The dots on top of the icon represent how rare the land is, with tiers from one to five. Should there be an artefact in your land, it will be shown underneath the land, and the dots here represent resource rarity, with tiers from one to three. 
There will also be a token ID displayed if your land has a Koda. 
There are a total of 15 categories of traits for the land, which are as follows:
Western Resource Tier (1–3)
Western Resource (74)
Southern Resource Tier (1–3)
Southern Resource (74)
Sediment Tier (1–3)
Sediment (5)
Northern Resource Tier (1–3)
Northern Resource (74)
Koda (10k)
Environment Tier (1–5)
Environment (29)
Eastern Resource Tier (1–3)
Eastern Resource (74)
Category (8)
Artefact (74)
At the moment, there is still not as much clarity out there regarding each of the traits. However, what we must make clear is that even if you got three tiers in one trait, the overall value may not be as great as you would expect. 
They are important, though, as these traits combined will determine how rare your NFT is. 
Every Otherdeed NFT available is a dynamic one, created as part of a collection of all of its elements, from Kodas to resources. Rather than being a static representation of a piece of your land, your Otherdeed for Otherside is designed so that it evolves along with what you decide to do in the game. 
With these NFTs being dynamic, the possibility to evolve or upgrade could be there. Perhaps five or four dots are just the beginning? It is possible that people can evolve their land in a more enjoyable way with the resources they mine for it. Even if you begin on a lower tier, it does not mean it is the end of the road for you. You could make it richer in the future. Of course, this is all theoretical at the moment. 
What is a Koda, we hear you say?
We have mentioned Koda a few times now, and you may be wondering what on earth this is! Well, every plot of land is going to have the possibility of containing some rare artefacts, natural resources, and if you are very lucky, a Koda. 
A Koda is basically an Otherwise local, however, information is a bit short in terms of their role within the future metaverse. We know that they are important, though.
On the Otherside website, an introduction to the Kodas was posted. They were called the "primal beings" that ushered us into the Otherside. Helpfully, the introduction also said that we do not know what their affinity to the land is or why they have brought us here. But we have been told to tread cautiously if we meet a Koda. All very intriguing, right?
In the 100,000 plots of land parcels, there are only 10,000 Kodas. At the time of writing, the floor price for an Otherdeed with a Koda on it is approximately 20 ETH.
There have been some rumours that Kodas are going to become a separate PFP NFT project, but there has been no confirmation of this. 
What we do understand at the moment, though, is that a Koda is viewed as a stamp of rarity, so those who managed to bag one will definitely be feeling lucky. 
But as we will highlight a few times, this NFT collection is a dynamic one, and so this means you could potentially exchange Kodas with others in the future or airdrop one. We will have to wait and see.
How did the first 100,000 Otherdeed NFTs end up being distributed?
The first 100,000 non-fungible tokens were distributed in the following manner:
55,000 NFTs were purchased using ApeCoin for the Infinite Expanse, Cosmic Dream, and Rainbow Atmos
20,000 NFTs are for the MAYC claim, which is for the Chemical Goo on the swamp's outskirts
10,000 NFTs are for the BAYC claim, which is for the Biogenic Swamp that is housed in the centre of the Otherwise
15,000 NFTs are for Yuga and other project developers for Infinite Expanse, Cosmic Dream, and Rainbow Atmos
The top-selling NFT collection
According to statistics offered by Nansen, Otherdeed for Otherside was the top-selling collection of NFTs in the first few days of May. In fact, on the 3rd of May, statistics showed that around 11K ETH was spent within the previous 24-hour period.
These figures alone show that the Otherside metaverse land sale was a success. 
However, not everyone was so happy…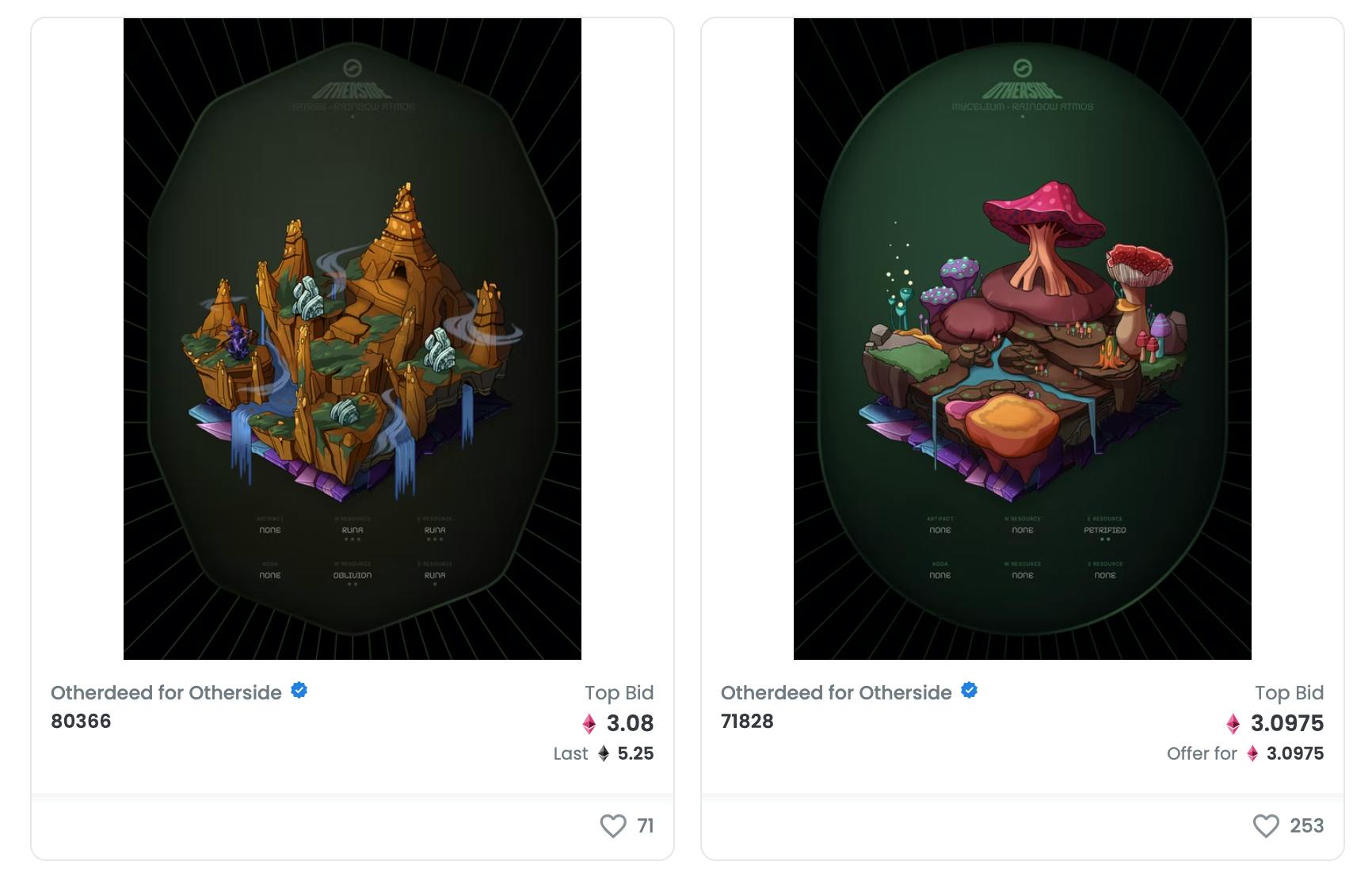 Was the Otherdeed NFT sale a success?
There was a crazy amount of demand for the land plots that were made available for purchase in the NFT marketplace as part of the Otherdeed sale. However, the sheer demand resulted in a number of issues. 
In terms of the size of this NFT mint and the huge levels of demand, it is fair to say that the sale was unprecedented. Yuga Labs released a statement stating that they had hoped that the unique challenges they faced would be dealt with thanks to a rigorous gating mechanism, which involved a significant clearing price at 305 ApeCoin, a maximum mint of two for every KYC'd wallet, and an on-chain KYC.
However, this was not enough to ensure that everything went smoothly. In fact, Etherscan crashed because the scale of the NFT mint was so big! Yuga Labs have since apologised for "turning off the lights on Ethereum for a while." 
They have also said that it seems evident that ApeCoin is going to need to migrate to its own chain so that it can scale properly in the NFT market. 
Sadly, some users experienced failed transactions because of the huge levels of demand being forced through the Ethereum bottleneck. Yuga Labs said that for everyone to who this applies, they will be refunding your gas and they appreciate the willingness to build alongside them. 
Nevertheless, for those who missed out due to these issues, those kind words are unlikely to offer much solace. 
Ethereum's rate reached a new high & people paid a lot in gas fees
If you delve into the NFT market a little deeper and engage on forums, you will see that a lot of people have been complaining about spending huge sums of money on gas fees.
Because of the Otherside NFT mint, the burning rate of Ethereum reached the highest it has ever been. In fact, users paid as much as five ETH in gas costs for a transaction. 
Even though Yuga Labs have since stated that they are refunding the gas fees, a lot of people have been left feeling dissatisfied with the mint. 
We saw that one transaction resulted in a user paying as much as 63,893.01 ETH in gas fees just to be able to mind lands on the Otherside metaverse. To give you some perspective, this currently equates to around $177 million in physical money.
What this means is that the fees ended up being higher than the actual cost of buying the underlying Otherdeed NFTs themselves, which is not what you want when completing NFT transactions.
It certainly resulted in some of the highest gas fees we have ever seen since the Ethereum network came about!
Could these fees have been avoided?
According to Will Papper, co-founder of Syndicate, a DAO infrastructure startup, simple code fixes could have lowered the gas fees. Many users were not happy that Yuga Labs did not have a gas-optimised smart contract for minting. 
Would Ethereum 2.0 have prevented this issue?
We all know that Ethereum 2.0 is on the way, with this expected to happen later in the year. This will see the network moving to a proof-of-stake consensus mechanism, which will reduce the carbon footprint Ethereum has. 
One of the major changes that are particularly relevant here - sharding - is not anticipated until next year. This is expected to increase transaction speeds while cutting gas fees in the open marketplace. 
Despite this, a lot of analysts anticipate that Ethereum's Layer 2 networks will take on more of the transactions on the Ethereum network. And different Layer 1 blockchains, like Cardano, Solana, and Avalanche, are trying to compete for the developers on Ethereum. 
Creating ApeCoin's own chain
In Yuga Labs' response to the issue, they said that creating their own chain for ApeCoin seemed to be the needed solution. 
ApeCoin DAO could establish its own blockchain network. Given the issues facing Ethereum, it would make sense. However, it is no easy task, and it takes a lot of time.
Nonetheless, this could be a huge benefit for Yuga Labs, as they look to compete with other metaverse projects, such as Sandbox and Decentraland, which both use tokens based on Ethereum.  
ApeCoin prices and scrapping the Dutch auction
Earlier, we told you that Yuga Labs was planning a Dutch auction. Well, this approach ended up being scrapped, which many people are attributing to the fluctuations in ApeCoin prices.
When ApeCoin first came about on the 17th of March, it sold at $5. On the 28th of April, just before the NFT mint, it reached an all-time high of $26.70. However, after the sale on the 30th of April, ApeCoin fell from $24.86 down to $167.3, which may surprise a lot of people.
However, the reduced ApeCoin demand may have happened because of Yuga Labs backtracking on the Dutch auction. Instead, they sold the Otherdeed NFTs at a flat price. 
The rise and fall of the prices of ApeCoin simply reflect the good old game of supply and demand.
Are blue chips about to explode? 
To begin with, the market is red all around, with collectors looking to sell NFTs so that they can purchase land on Otherside. A lot of users sold their blue-chip projects to do this, which caused the floor price of blue-chip projects to decrease.
However, we have now seen that the floor prices of blue chips are more stable, with some even on the increase. This happened after the Otherside land sale. Blue chips, especially Doodles, have never been stronger.
The floor price of Doodles increased by a monumental 38 per cent over the previous seven days, at an ATH of 25.25 ETH.
Once the Otherside land sale concluded, holders of Otherwise who quickly flipped are using the profits they turned to put them into other blue-chip projects. So, we are certain that blue chips are only going to get stronger and stronger.
Final words on Otherdeed for Otherside NFTs
So there you have it: everything you need to know about Otherdeed for Otherside NFTs. There is no denying that this NFT collection has caused quite a storm over the past months.
With demand being so high, a lot of people ended up being disappointed due to failed transactions, and the gas fees also caused quite an uproar.
However, there is no denying that the sale itself was a success, and it is intriguing to see how these NFTs are going to play out over the next few months and when the remaining 100,000 will be made available.