Digital Marketing Consultant
Are You Looking for a Digital Marketing Consultant That Can Help You Get Better Results?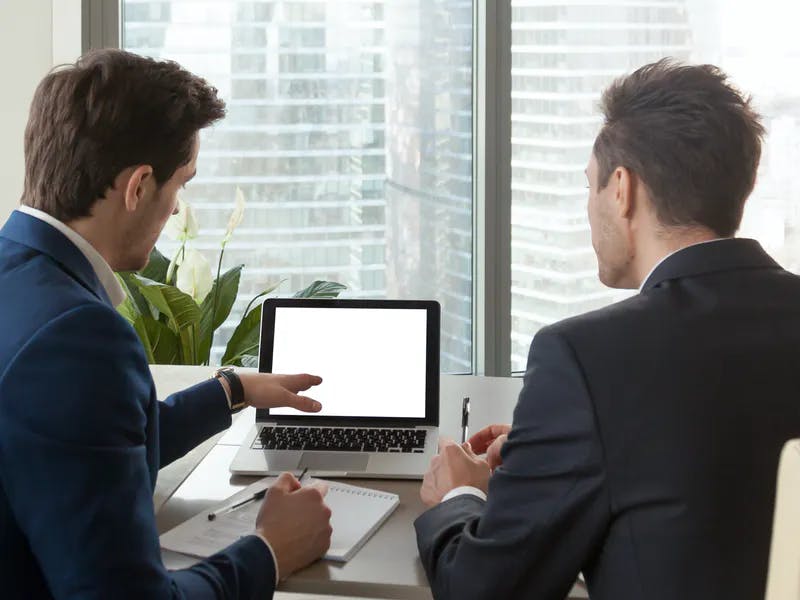 What Is a Digital Marketing Consultant?
A digital marketing consultant is an expert who can help your business understand the ins and outs of online advertising and marketing.
The first thing to understand is how digital marketing agencies differ from traditional marketing agencies.
Traditional vs Digital Marketing
Traditional marketing campaigns, sometimes called 'above the line' marketing, covers the classic formats that most people think of if you say 'advertising' or 'marketing' to them. Billboards, TV ads, and so on. It also covers the ancient art of Public Relations and all the various stratagems that lie behind company branding, positioning, and identity.
Digital marketing, on the other hand, is less easy to identify unless you know what you're looking for. The layman's description of digital marketing is 'marketing that happens online', which doesn't cover the sheer breadth and depth of what online marketing can be. Marketers discovered early in the proliferation of consumer internet that you couldn't just translate traditional advertising onto the internet. If you're old enough to remember pop up ads that resembled a poster plonked onto the internet, you'll know what we mean.
No, digital marketing consultant services require a thorough knowledge of the digital medium, and the potential it has to engage customers in unique and rewarding ways. That's where digital marketing consultants come in.
So, What Does a Digital Marketing Consultant Actually Do?
You've probably come across people describing themselves as 'digital gurus', or something similar. The fact of the matter is that digital marketing is not a dark art. It doesn't require special powers, just an understanding of the different channels and possibilities available to businesses digitally, and how to use them to boost a client's online profile. Plus the dedication to use all the tools available to their full potential.
Let's look at some of the tools that are available to a digital marketing consultant.
Search Engine Optimisation (SEO)
This is a term you've probably heard thrown around a lot. What is means, in essence, is that a digital marketing consultant will precision-engineer your web presence so that when a potential customer searches for key terms connected to what you do, your business is more likely to come up. So if you are a Halifax-based gym chain, when people nearby search for 'best gyms', they'll see your business.
Facebook Advertising
Facebook is a powerful platform with many great options for digital marketing. Every company with an online presence needs a social media marketing strategy in some form. It can be as simple as paying for ad placements within the news feeds of targeted demographics. But it can also involve things such as developing the brand page for your website, running interactive competitions, and responding in real-time to customer questions via direct message.
YouTube Advertising
As the internet's best-loved video platform, YouTube advertising is probably the part of digital marketing that comes closest to traditional (i.e. TV) advertising. The most visible kinds of YouTube advertising are the pre-roll ads users get before videos, often the length of standard TV ads. But there are many other options for a digital marketing consultant, from micro, five-second-long ads to content creation or product placement.
Google Adwords
Google Adwords is a key part of Google Ads. They bear some similarity to SEO, in that they are based around specific keywords connected to your business. In essence, you bid to have certain keywords return paid ad placements for your business. You pay a certain amount each time a user clicks on that ad placement, known as the Cost Per Click (CPC). The Cost Per Click is determined, in part, by how in-demand your chosen keyword or words are. That's the basic idea, but it gets a little bit more complicated than that since Google ranks ads based on a quality score – the more relevant Google considers your ad/keywords to be, the higher your rank. Ensuring that your advertising is as relevant to your customers as possible is – you guessed it – the job of a digital marketing consultant.
Geofencing
Geofencing is a location-based marketing tool that falls under the umbrella of 'mobile advertising'. That's because it works by creating a virtual 'fence' around a location. When customers enter the area within the fence, they get targeted communications from your business on their smartphones. One of the great things about this kind of marketing is that you know your targeted customers are near your business when they see your communications – and the more relevant digital marketing is, the better.
Web Design and Development
This is a big area that could have its own blog post. Web design and development is a big part of what a digital marketing consultant does since it covers everything to do with the design, hosting, and running of a company's website.
Anything Else?
Yes, lots! The above are just some of the tools in a digital marketing consultant's toolbox. There are other products and services, such as email marketing. But, of course, successful digital marketing depends on more than just the tools.
You have a point of view on how to use those tools.
And that's perhaps the key thing a digital marketing consultant does – develop a nuanced and coherent digital marketing strategy for your business that uses the right digital tools in the right way. A timeline, long term roadmap, and well-defined success criteria are all important things a good digital marketing consultant can help you define. There's no one-size-fits-all with digital marketing. But there is a strategy for everyone.
Why Do You Need a Digital Marketing Strategy?
You might be used to consultancy firms telling you why you need to hire them, but let's take a step back and look at why you need a digital marketing strategy at all. 
The simple answer is that you can find more customers online. No matter how small your business is, no matter what it is that you do, there are more customers waiting for you online. With the right digital marketing plan, you'll be able to reach customers in all four corners of the world. If you want local customers we can find them, and you can even build brand loyalty that will see your clients return time and time again.
The best bit? You can do it all for a fraction of the cost of traditional marketing methods. 
So, What Makes Fracas So Different?
Like we said before, we started this journey after trying to find a digital marketing consultant for our own business. Some were good, some were bad, but none of them really clicked with what we were trying to do. After a while, we started learning how to do it for ourselves, and here we are. 
As we learned more about digital marketing, we realised what had been wrong. The consultants we'd been working with were taking a perfectly fine but very standard marketing strategy and trying to overlay it onto every firm that they worked with. They knew how to work with search engines, they understood online advertising, but they didn't know much about business. 
That's why we're different. Because our digital marketing plans are tried and tested in real business environments. We know business, and we'll take the time to get to know yours.
What can we do for you? 
Hopefully, you know by now that we're not like other marketing companies, but we do provide the full range of services that they do.
Fracas Digital
Whether you want to get your online presence up to scratch, or if you need to find customers and keep them, we can help. From an online audit to a full-on marketing campaign, we've got you covered.