Expert NFT Development and Marketing Services From the Leading ArtTech Company in the UK
NFT Marketing
Fracas NFT Development and Marketing Agency specialise in Blockchain, Crypto and NFTs, delivering innovative apps, websites and marketing campaigns for artists and musicians, helping them to connect with audiences in new and innovative ways. We figure out the complicated tech stuff, so you don't have to.
Pioneers in the NFT marketing industry and based in the UK, Fracas NFT Marketing Agency is now leading the way with its full suite of NFT marketing services.
We provide the rocket fuel to allow you to capitalise on the huge opportunities within the blockchain ecosystem. Fracas NFT agency is one of the UK's first fully integrated production, development, and marketing agencies focused on non-fungible tokens. As a team of blockchain experts, we can take your project from conception to deployment and beyond.
Who are
Whether you're an artist, art gallery, musician, record label, publisher, agent or collector, we can assist at every stage of your NFT journey.
Our team is highly experienced in designing, programming, minting, listing and promoting NFTs on numerous blockchains including Ethereum, Solana, Cardano and many more. Proficient in all major blockchain programming languages including Solidity, Rust and Haskell, our technical and marketing skills are best-in-class which is why we're considered the most trusted Blockchain and NFT agency in the UK.
WHO CAN BENEFIT?
The NFT market exploded in 2021 and is now worth over £30 billion and growing fast. One of one editions of high end art and generative PFP projects are just the tip of the iceberg.
If you are an artist or musician and want to turn your work into an NFT
If you are a brand, personality or influencer who wants to enter the NFT community
If you are a collector and looking to build an NFT portfolio
If you need marketing or promotion of your NFT project
WHAT IS AN NFT?
Non-fungible tokens, referred to as NFTs, are unique digital assets accredited using blockchain technology. NFTs bring the concept of ownership into the digital world. Any digital file can be turned into an NFT such as a piece of art, musical track or even a tweet.
While access to the digital file might not be restricted, meaning that you can effectively download the same piece of art someone paid millions for, possessing the digital certificate of ownership is a sole privilege. For this reason, NFTs give value to artwork created in a digital space in the same way that physical works of art are bought and sold.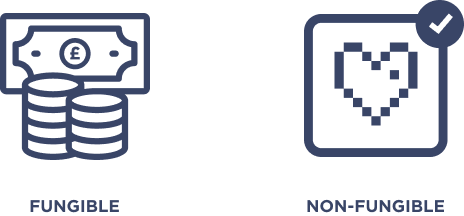 MARKETING NFTs
As with any successful product, behind it lies an effective marketing strategy. NFTs are no exception. As a fully integrated production, development and marketing agency focussed on NFTs, we take your creative dream and make it a reality. Our team of blockchain experts are ready to help you mint a non-fungible token, list it on the most suitable NFT marketplace and connect it with an audience of potential buyers.
Correctly identifying and connecting with your target audience will mean the difference between selling your art and it sitting there unnoticed. We get you seen by the right eyes, using the best, most effective channels and in the quickest most efficient way.
BUILDING AN NFT COMMUNITY
If you want to promote your NFT effectively, you will need to manage your community and build on it. An enthusiastic and growing community can make or break and NFT project. Experts in community development, we'll use tools such as Discord, Twitter and Instagram to provide a home for your collectors and allow you to connect more intimately with your audience.
We'll help you build a community of highly supportive members that will catapult the value of your non-fungible token. Nurturing a community of collectors will allow you to share your vision and ideas, answer questions, and engage with potential customers.
PROCESS
2
Smart Contract Creation & Deployment
3
Miting dapp Creation & Deployment
4
marketplace strategy & selection
6
strategic press releases
7
organic & social marketing strategy
8
community management & growth
WHY WORK WITH AN NFT MARKETING COMPANY?
The concept of creating and promoting your very own NFTs on a marketplace is not simple and straightforward. Which is why, with help from our leading NFT Marketing Agency, you can promote and sell your NFT projects successfully and be part of the real NFT community.
Expert guidance is crucial for success. The NFT space is evolving quickly, with new NFT marketplaces launching and new innovative ideas to use yourself. Having the guidance there can help you to achieve the highest value in the NFT market.
As an NFT marketing agency based in the UK, we have access to advanced tools that will help you promote your NFT. There are many blockchain specific promotion tactics we use to help you, for example influencer marketing, social media management, media PR and much more. We take responsibility so you don't have to worry and can focus on creating the art.
The NFT marketplace is constantly evolving. As an NFT agency, we have noticed that it's crucial to stay on top of the latest trends within the niche. If you can have an NFT project that reflects trends within the NFT and blockchain ecosystem, your chances of success will be greater.
NFT marketing agencies, like Fracas, work with big clients within the industry, which allows us to gather enormous amounts of data and knowledge which is then shareable with you. Our experience and expertise will certainly come in handy when creating a marketing plan for you.
If you want to promote your NFT effectively, you will need to manage your community and build on it. We will make people aware of your NFT project and your ideas going forward for releasing new content.
ARE YOU A COLLECTOR?
If you want to build an NFT portfolio but not sure where to begin, we can help. The crypto, blockchain, NFT space is different to traditional markets but our team has many years experience buying and selling NFTs.
We can help with;
Setting up a crypto wallet
Securing yourself against scammers and hackers
Exchanging your FIAT currency such as GBP or USD for the native crypto required to buy your NFT such as ETH, SOL or ADA
Selecting the appropriate blockchain
Setup of marketplace buyer account
MINTING
A term you may have heard connected to NFTs is 'minting'. This refers to the process of converting your digital assets, or art, into non-fungible tokens – aka tokenising. Similar to the way that metal coins are minted and added into circulation.
Ethereum is currently the most popular blockchain for NFTs, requiring an investment of the cryptocurrency Ether to activate it. There's a fee for creating NFTs on Ethereum known as a "gas fee" or energy surcharge. This rate fluctuates regularly wildly depending on network congestion so timing the mint for your launch is crucial to maintain a high level of customer satisfaction.

Once you have your NFT, it's time to list it on the marketplace. Fracas Digital are already set up with all popular marketplace for NFTs so the listing process is quick and seamless. Once your NFT is listed, it's up to us to connect your product to the right audience. Social media channels are effective for this purpose, along with influencers within your specific niche. In fact, there are a whole host of tools available to get your NFT snapped up by a collector. This is where our expert team comes in handy.


FAQs
How can artists benefit from NFTs?
Many digital artists are in support of NFTs for making the art world a more accessible and inclusive marketplace. NFTs are not controlled by any government or central regulatory body, which significantly opens up the playing field. They also provide a means of legitimate ownership of a piece of non-physical art, the rights of which can be sold by the creator. This new way of monetising online art creates a market that previously did not exist, propelling the global art scene forward. NFTs are being touted as the future by many progressive art dealers who have been quick to adopt this new technology.
Should I Be Making NFTs?
The NFT market has exploded in popularity over the last year. Despite this we are still early in the adoption of NFTs. Artists that embrace this new technology will be recognised as pioneers in the ArtTech movement and as such will elevate the value of their brand.
There are many benefits to working with NFTs including the concept of royalties where an artists receives a cut every time their asset is transferred on the secondary marketplace. A concept that does not exist outside of NFTs and wit traditional art sales. Royalties make art creation an investment that pays dividends for the lifetime of the artist and beyond.
If you're an artist, there is no good reason not to begin working with NFTs. We can help.
Contact Us
The UK's Most Established Blockchain, Crypto and NFT Agency
Want to start selling your art or investing in NFTs?